Lac-Saint-Jean, a snowmobile paradise
With its wide open spaces and abundant snow, Lac-Saint-Jean offers an incredible playground for snowmobile enthusiasts!
In the Domaine-du-Roy RCM, you can ride several hundred kilometres of trails in the heart of the boreal forest while discovering the icy immensity of Lac Saint-Jean.
In addition, many services are offered for snowmobilers along the way. Thirst for adventure? Dress up in your warm 'frock', and let's go!
A 100% snowmobile weekend in Lac-Saint-Jean
A breathtaking weekend getaway, that's what Bienvenue au Lac offers you in this loop of more than 215 km to explore as a couple or with friends.
Friday: arrival at Lac-Bouchette
Many snowmobilers access Lac-Saint-Jean from Mauricie. Lac-Bouchette is the gateway to Saguenay-Lac-Saint-Jean from our neighbouring region. You will find many services as well as accommodation.
If you are an early riser, or a little more adventurous, you can choose to go by snowmobile from La Tuque (add about 200 km to your trip) to reach Lac-Bouchette. To do this, leave the Trans-Québec route #83 at La Tuque and follow the regional trail #355 to Lac-Bouchette.
If you prefer to save your energy for the weekend, you can also access Lac-Bouchette by car.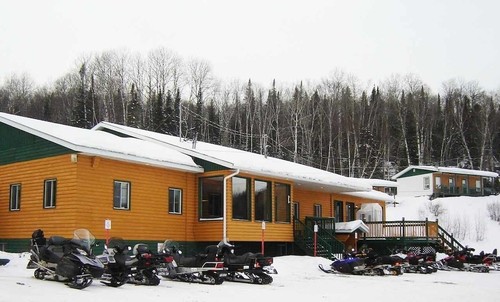 End of the evening
Spend the evening at Auberge Éva for a dinner in a warm atmosphere at Resto-Pub Saint-Patric and then a comfortable sleep. Go to bed early!
See more accommodations
Saturday: On the road to Roberval (50 km and more)
After a good night's sleep, it's time to hit the road on your machine!
Take the opportunity to fill your snowmobile with fuel before leaving Lac-Bouchette (don't worry, there will be many gas stations on your route).
Then, continue on the #355 until you join the trans-Quebec trail #83, towards Chambord.
Option 1: Quick route to Roberval
From Chambord, follow the regional trail #617 towards Roberval.
Take in the views as the trail treads across the frozen expanse of Lac Saint-Jean!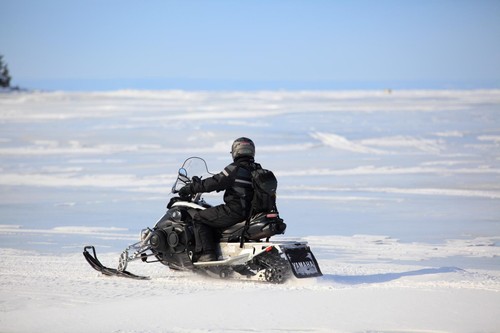 As soon as you arrive in Roberval, spend the afternoon at the Ice Village and enjoy the many activities. Ice fishing, fatbike rental, ice ring, and walking trails await you on site!
End of the evening
For a delicious meal in good company, dine at Le Draveur restaurant, then spend the night at the Hôtel Château Roberval (snowmobile packages available).
Option 2: Explore Saint-André-du-Lac-Saint-Jean (+50 km)
If you feel inspired, before taking the road to Chambord from Lac-Bouchette, make a small detour to Saint-François-de-Sales and Saint-André-du-Lac-Saint-Jean by following the regional trail #605.
In Saint-André, you will find a relay to warm up and many local snowmobile trails to explore the magnificent Métabetchouane River and its famous Chute de l'Epouvante.
Once you have completed this short loop, retrace your steps towards Chambord. Allow a little more than 50 km for the round trip.
At this point, you can choose to have dinner and sleep in Roberval, or continue your journey towards Saint-Félicien.
Option 3: End of the evening in Saint-Félicien (+30 km)
Sunday: The adventure is not over! (Between 135 and 160 km)
On Sunday morning, after breakfast, continue your journey along Lac Saint-Jean and the Ashuapmushuan River.
In Saint-Félicien, make a small detour to Parc de la Chute-à-Michel, where you can admire the Ashuapmushuan River.
You will then reach the Trans-Québec route #93 in La Doré.
If your weekend is coming to an end, go through Sainte-Hedwidge by following local trails #711 and #712, then #83 and #355 to return to Lac-Bouchette.
Shall we explore further?
If you still have a few days ahead of you, continue on your way to the 49th footbridge circuit. With a length of 236 km and punctuated by several footbridges to cross by snowmobile, this circuit highlights the boreal forest through the landscapes and rivers of Lac-Saint-Jean.
You can also follow on the #93 towards Chibougamau.
How about an extra night at Lac-Saint-Jean?
Why not treat yourself to one more night in our beautiful region? If you are still in the La Doré area, stay at the Refuge du Moulin d'eau, a small haven of peace in the middle of nature. Breakfast is even included!
Otherwise, on the way back, make a detour to Chalets et spa Lac-Saint-Jean, in Chambord. Take advantage of 12 km of marked snowmobile trails, including a few kilometres directly on Lac Saint-Jean. Then, come back in time for dinner and sleep in a fully equipped cottage.
Good addresses to remember
If you arrive from La Tuque by snowmobile, the Relais du lac Édouard allows you to take a short break halfway between La Tuque and Lac-Bouchette.
A breakdown with your snowmobile? Need a specific part? The Center du Sport Lac Saint Jean de Chambord can help you out in the event of a problem.
For full details on trails and access rights, visit the website of the Fédération des Clubs de motoneigistes du Québec.
COVID-19
To ensure a safe visit, specific measures have been put in place by the various tourist attractions. However, it is possible that some of their activities or services have been suspended due to restrictive public health standards. Before making a reservation, it is your responsibility to contact the tourist site by phone or to consult their website.