New Fathers in Lac-Saint-Jean: Domaine-du-Roy RCM, THE family destination in Quebec!
Photo credit: Nouveaux pères
Who said you have to give up adventure with young children?
At Nouveaux pères, we believe that hitting the road and traveling with your family for your vacation is absolutely possible. It will certainly be less improvised than your road trip through Western Canada and it will be nothing like your week-long rumba in Cayo Coco, but with a little planning and a few adjustments in expectations, the perfect summer vacation is within your reach!
And the starting point for a successful family trip is the destination.
Our adventure last June: a week in Lac-Saint-Jean, two families and a total of four children under the age of three. An already recognized destination for families, we can confirm that the region has passed the test with flying colours!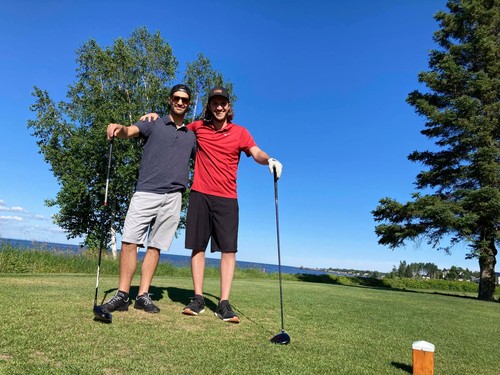 This list could have been much longer, but we have selected three reasons that, in our opinion, position Lac-Saint-Jean as a top destination in Quebec for family vacations, with personal experience to back it up.
Discover Lac-Saint-Jean with your family
Three reasons to travel with the family to Lac-Saint-Jean during your vacation
1. Reasonable travel between each family activity
Are we there yet, Papa Smurf?
Waiting is a concept that remains to be defined for young children. A mistake to avoid when it comes time to organizing your schedule is to include too many long trips. That will not happen in the Domaine-du-Roy RCM!
The Lac-Saint-Jean region may not be next door, but once at your destination, each activity is close to the last. And forget the traffic of big city centres with the children in the back seat who moan because they are hot, hungry, or even worse ... need to pee. Some examples?
We stayed with our families at the Val-Jalbert Historical Village, in one of their magnificent old houses transformed into hotel rooms. From this starting point, we were 25 minutes from the Trou de la fée cave park and Ermitage Saint-Antoine in Lac-Bouchette, 10 minutes from downtown Roberval, and 30 minutes from the city of Saint-Félicien. And to land with both feet on a fine sand beach on the shores of Lac Saint-Jean or to ride on the Véloroute des Bleuets bicycle path, it only took a few minutes.
Decidedly, the Jeannois are rich in time!
2. The Domaine-du-Roy RCM: Activities adapted for the family
In addition to its wealth of museums and agri-food (and microbreweries that are more aimed at parents!), The Domaine-du-Roy RCM is full of activities perfectly suited to a family clientele. More examples? Okay, okay.
The most popular tourist attraction is undoubtedly the Zoo sauvage de Wild Zoo, which has been one of Quebec's must-see sites for over 60 years. Nature trail, water games, small farm ... in short, this boreal biodiversity conservation centre has definitely learned how to repeatedly please young and old alike!
There are other activities and attractions, admittedly a little less known, but just as relevant for the family! The Roberval marina offers a great place to settle on with the children. In addition to the La Vache Copine dairy bar and a kid-friendly restaurant, you will find an impressive children's park with ten modules and swings. You can even watch the majestic Lac Saint-Jean with one eye while watching the children having fun with the other. We recommend this spot!
There are many pick-your-own farms and orchards in the area, a perfect activity for children. Depending on when you plan to visit the area, you can pick blueberries, strawberries, raspberries, and haskap berries, and also lesser-known fruits like currants, sea buckthorns and morello cherries (if your children bite into a currant, get out the camera!).
Consult the pick-your-own calendar
3. Lac-Saint-Jean loves families!
You have to be there to fully understand it. The family values of the people of the Lake and their legendary welcome embellished every moment of our vacation.
You never enter a restaurant or a business with the impression of bothering customers or staff. You never feel impatience when you slow everyone down because you have to deal with the unexpected in public. People are genuinely happy to see us showing up everywhere with our army and don't hesitate to offer their help.
We arrive at the Lake as if we were good friends!
Dare to spend a family vacation at the Lake
For many parents, adventure and travel belong in their early twenties and are put on ice once a family is established. Impossible at the moment, they will tell you. They will advise you to take it easy, vacation by the above-ground pool and to put off family getaways for a few years, while the children grow up. Well, prove them wrong!
Max and Sam
Follow les Nouveaux pères on Facebook or Instagram so you don't miss any of their adventures.