Domaine-du-Roy: Boundless nature, adventures made to measure
Whether on land, on the water, or even in the air, in town or in the countryside, outdoor activities are limitless. The Domaine-du-Roy is a territory of more than 18,000 square kilometres of adventures where the diversity of landscapes offers breathtaking panoramas.
Ride your bike over kilometres of trails, take a walk, or simply go out to meet nature. Hunting and fishing or outdoor sports and activities enthusiasts. As a family, as a couple, or with friends. Get your fill of oxygen!
Discover through unique experiences in Quebec the well-hidden treasures of our wild forests and our majestic Lac Saint-Jean. Here, true nature welcomes you.
Observe the black bear in its natural habitat
With the black bear watching activity, you can actually see bears thanks to Aventure Lac-Saint-Jean! The adventure begins at your guide's log home, where you will be greeted with a welcome worthy of the Jeannois. At nightfall, you will set off for a unique and personalized experience in the heart of the forest to observe black bears and beavers in action.
Accompanied by a passionate and experienced guide, the two-hour activity takes place in a safe environment at the top of an observatory on the edge of a small lake built by beavers. Seated comfortably, all you have to do is let yourself be transported by the sounds of nature while staying on the lookout.
Do you have sea legs? Fishing and cruises are on the agenda
Go on a cruise of Lac Saint-Jean. For about twenty kilometres, you will have the incredible opportunity to discover landscapes where you will no longer see the mainland, and you will hear the captain and naturalist of Aventure Lac-Saint-Jean tell you a thousand and one stories of this large body of water that covers more than 1000 km2.
You'e more the type of person who likes to catch fish. Our large inland sea is a true fishing paradise that will undoubtedly offer you the best fishing stories! Come with the "gang of guys", as a couple, or as a family and, above all, bring the children.
No need for your fishing rod, Aventure Lac-Saint-Jean takes care of everything. You will leave from the Roberval Marina, one of the most beautiful marinas in Quebec, aboard a luxury fishing boat. Accompanied by a guide with more than 15 years of experience, you will sail on the majestic Lac Saint-Jean in search of walleye or landlocked salmon, our animal emblem.
If you love nature, rural landscapes, and tranquility, treat yourself to a vacation at the ZEC de la Lièvre. With its 974 km2 of forest and close to 400 lakes, you can enjoy fishing, large game hunting, hiking, ATVing, canoeing, and organized or rustic camping.
Is there such thing as photographic hunting?
Discover animals in a whole new dimension with scientific missions in the heart of the boreal forest with Québecphotogravie. Unique experiences in Quebec await you, such as the observation of the northern flying squirrel, commonly known as the "flying squirrel". Nestled in an observation tower where it is possible to spend the night, all you have to do is make yourself comfortable in order to catch a glimpse of this small mammal capable of soaring distances of up to 50 meters.
Go in search of the best animal pictures. Québecphotogravie offers all the devices to make your photographic hunt a memorable experience: observation blinds directly on the tower platform, an observation platform located 3 m high near a stream in the heart of the forest, a double stand installed on a tree stand near two micro-salines frequented by deer. What more could you ask for. 3, 2, 1… smile!
Domaine-du-Roy: A larger-than-life playground
Domaine-du-Roy is also a huge natural playground that will undoubtedly awaken the athlete in you. From beginners to the most experienced, the Tobo-ski Club will give you an unforgettable experience with more than 60 km of mountain bike trails.
Domaine-du-Roy is also a huge natural playground that will undoubtedly awaken the athlete in you. From beginners to the most experienced, the Tobo-ski Club will give you an unforgettable experience with more than 60 km of mountain bike trails.
The Véloroute des Bleuets has become a must. This 256 km circuit that surrounds Lake Saint-Jean crosses the territory of Domaine-du-Roy. The Maison du Vélo in Roberval is your starting point for a bike ride in our region. We will give you all the information you need.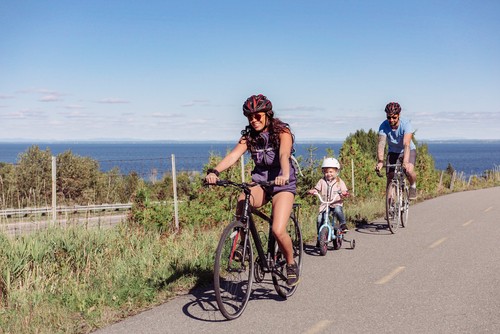 Don't forget your walking shoes! Kilometres of hiking await you
Hiking enthusiasts, set off on our trails adorned with gems that only nature can offer us.
For the more experienced, the Ouiatchouan Trail offers 30 km of linear trail along the Ouiatchouan River between the legendary Val-Jalbert Historical Village and Ermitage Saint-Antoine in Lac-Bouchette. On your way, you will find three refuges, while bivouacs can be set up at certain places along the trail. Intermediates will also find something to their liking, as the trail offers the option of an 18 km stretch between the historic village of Val-Jalbert and the municipality of Saint-François-de-Sales. Finally, for beginners and families, the flâneur trail offers 3.5 or 7 km loops with viewpoints overlooking Lake Saint-Jean. Access to this trail is at the Ermitage Saint-Antoine.
The Parc de la Chute à Michel is located in the town of Saint-Félicien. This is the perfect place for a family hike along the Ashuapmushuan River. Also accessible by the Véloroute des Bleuets, this 3 km trail is an enchanting place where you can admire a magnificent sunset!
Golfer au rythme des vagues du lac Saint-Jean
Practice your swing while admiring the majestic Lake Saint-Jean. Yes, in Lac-Saint-Jean, we play golf, but more importantly, we have little hidden treasures like the Saint-Prime golf course on the lake. It is the only golf course located on the shores of Lac Saint-Jean. Imagine the views from this 18-hole course, distinguished by the quality of its greens and the challenge it represents, even for the most experienced golfer.
For a great family day out, the Les Cèdres de Chambord golf club is a great place to spend an unforgettable day. The golf club offers an 18-hole course and a practice area in a captivating setting.
For an all-inclusive vacation
The Auberge Èva Nature Vacation Center is undoubtedly the place to spend some quality time with your family and especially to enjoy the great outdoors. You will find hiking and hebertism trails, nearby fishing, climbing, playgrounds, bicycle and watercraft rentals, a mini putt, and more!
You like to be in nature, but not too deep in the woods. The Domaine des Trois Îles is a corner of paradise located on an island in the heart of downtown Saint-Félicien. The site offers mini-cabins, but also the possibility of watercraft rentals and 5 km of hiking trails. On foot, by bike or by car, you will have a multitude of outdoor and recreational activities nearby.
In short, to take full advantage of the great outdoors and wide open spaces, Lac-Saint-Jean is the place to be!
COVID-19
To ensure a safe visit, specific measures have been put in place by the various tourist attractions. However, it is possible that some of their activities or services have been suspended due to restrictive public health standards. Before making a reservation, contact the tourist site by phone or consult their website.